Welcome To UNSW Karate
The UNSW Budokan Karate Club is one of the oldest and most successful university karate clubs in Australia. We offer karate training to both UNSW students and the general public. Everyone is welcome, so come experience it for yourself with a free trial-lesson!
Training Sessions (Temporarily Cancelled as Coronavirus Precaution)
We train two times a week, Tuesdays and Thursdays with a break at the end of the year for approximately 1.5 months. Everyone is welcome to join us at any time throughout the year, all you need to do is turn up to a class and let us know. We offer a free trial-lesson with no strings attached to help you decide if karate is for you.
Tuesday, 7pm - 9pm
Multi-purpose Room 1,
UNSW Fitness & Aquatic Centre,
Level 1
Thursday, 7pm - 9pm
Multi-purpose Room 2,
UNSW Fitness & Aquatic Centre,
Level 1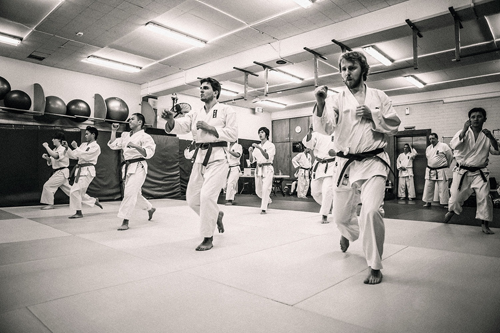 Get In Touch
Want to know more? You can contact us on Facebook to get your questions answered as well as to keep up to date with club related news. Alternatively, you may send us an e-mail at unswkarate@unsw.edu.au and we'll get back to you as soon as we can.
Latest News
October She Can
Term 3 She Can is on the 30th Oct, at 1pm in Sam Cracknell
---
Back in Action!
Hope everybody had wonderful Christmas and New Year's celebrations! Great news - training will be resuming again soon...
---
Happy Holidays!
And, that's a wrap for 2018! Thank you to all our members (old and new) for continuing to support the club.
---
Annual Christmas Sushi Dinner
We will be holding our final Sushi Night for the year on the 13th December.
---
Sushi Night and Club AGM
UNSW Karate will be hosting the long-awaited 'Sushi Night' next Thursday (1/11/2018).
---
October Grading Results and Next Grading Information
Congratulations to everyone who graded last night! Great performance, as always. Keep up the good work!
---
October Grading
A grading will be held on Thursday 11th October 2018, 7pm~9pm. All members, grading or not, are encouraged to attend.
---